Nail files are an essential tool for any at-home manicure. While many different types of nail files are available, an electric nail file is an excellent option for achieving perfect results. Here are some tips to help you get the most out of your electric nail file.
How do you use an electric nail file on natural nails?
Nowadays, electric nail files are becoming more and more popular. This is because they provide a quick and easy way to give yourself or someone else a perfect manicure. But if you're new to using them, it can be tricky to know how to get the most out of them. So here are some tips on using an electric nail file for the perfect manicure.
Using an electric nail file to give yourself a perfect manicure is a great way to save time and ensure your nails look their best. Here are some tips on how to use this tool for the best results:
Choose the right file size. If you have smaller nails, choose a file with a smaller head.
Always use circular motions when filing. This will help avoid chips and keep your nails looking neat and polished.
Be careful not to filing too much off of each nail – go slowly and take your time! You don't want them too thin, or they'll be prone to breaking.
Finish up by buffing your nails with a soft cloth to give them a shine.

Electric files: safe or dangerous for nails?
Nails can be filed in a number of ways: with an emery board, a metal file, or an electric file. Each has its benefits and drawbacks. Metal files are the most common type; they're inexpensive and durable. Emery boards are typically used for shaping nails before clipping them; they're gentle on the nail and easy to use. Electric files are a more recent invention; they come in corded and cordless models. They're popular because they're fast and efficient. But are they safe? That's a question that deserves some thought.
Electric files are handheld tools with a spinning sanding band, used to remove from 0.25mm up to several millimeters of the nail plate (in special cases) to shorten or shape the nails and prepare them for further acrylic application. The tool works by connecting it into an electrical outlet, which powers its motor and makes the sanding band spin at about 20 000-30 000 RPMs (for professional units) or less for personal use. They are extremely popular among nail techs. This is because they offer more precision control over freehand filing techniques when shaping natural nails, especially working on people with brittle and soft nails that break easily. In addition, electric files can also be very efficient in removing lifting edges during fill procedures.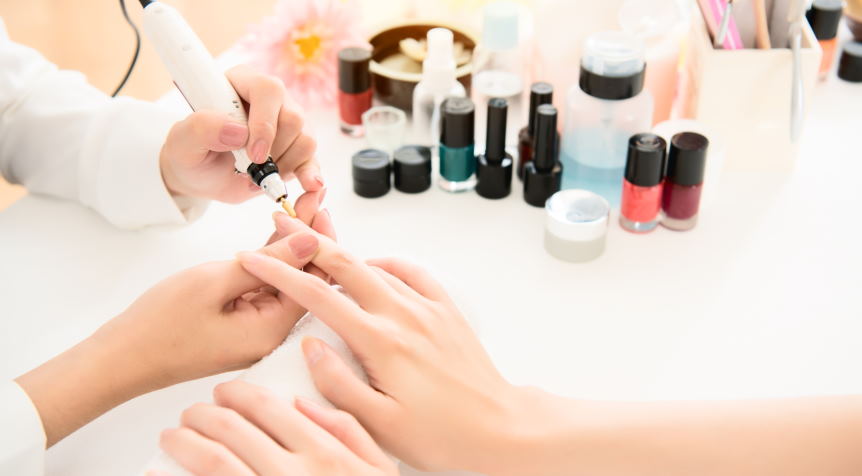 Do you need an e-file for dip nails?
A quick answer to this question: You doesn't need an e-file for dip nails, you can file them by hand. However, in the long run, filing your dip powder nails with an electric nail drill will be much more time-efficient and less strenuous on your hands and wrists. With that being said, a handheld rotary tool can also remove the product from dipping nails. But please note one thing: When using any power tools or even a handheld rotary tool to shape and buff gel polish or acrylics (or other artificial products), you must use the proper bits/attachments on those tools so they do not create heat or friction which may lead to dehydration of natural nails and cause burning or discomfort.
Dip nails are a type of artificial nail applied with a brush. They offer a natural look and are growing in popularity. While an e-file is not necessary to apply dip nails, it can make the process easier and faster. If you are thinking of getting dip nails, be sure to ask your salon if they have an e-file. If not, you may want to consider getting them done at a salon that does.